We are always being asked about marquee flooring, so we thought we would outline the options…
You may only walk on it but the type of flooring you have in your marquee can be important. The first thing to decide is whether you will need a solid flooring or whether groundsheets with carpet over the top will be just fine…
Our all-weather flooring is hard-wearing plastic tiles which interlink to form a solid base which we can then overlay with carpet. When used on grass it follows the contour of the land beneath –  great for laying over small holes, long grass and areas prone to water-logging. It is also ideal if there are any guests with mobility issues and does make walking in stiletto heels, that bit easier!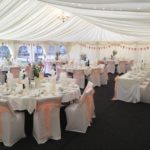 If the marquee is to be on a hardstanding and it rains, any water which has collected on the hard surface can run into the marquee. Without a solid floor, this water will be soaked up by the carpet which acts like a sponge. Therefore, when we install a marquee on tarmac, concrete or similar, we would usually recommend having our all-weather solid flooring, as water can run under the flooring, keeping the carpet above it nice and dry.
However, for most events, if the marquee is sited on flat, well-drained grass then groundsheets with carpet laid on top works really well. Our recommended carpet is a charcoal grey colour. Not only is our carpet thick, easy to walk on and very forgiving, the colour also works really well as a contrast against the ivory pleated linings and provides a blank canvas for any other colour scheme to be introduced.
As an alternative, we can lay coconut matting, a natural product, which can also look very effective. Either of these flooring options work well in a marquee as wet or muddy footprints are unlikely to show up if the weather turns for the worst outside.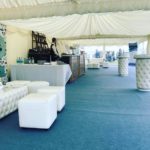 However, for those wanting a particular colour carpet, we can order one-use exhibition style carpet in a huge variety of colours.
If you would like to know more about marquee flooring, or see some photos, do get in touch.