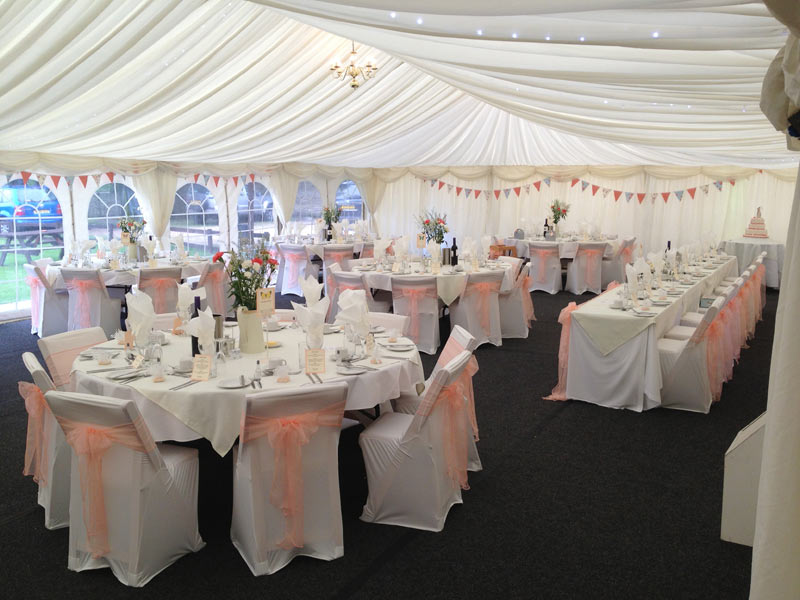 Maidmans Wedding Marquee Hire throughout Dorset, Hampshire and Wiltshire
All year round, we are installing wedding marquees in private gardens, in the grounds of some fabulous country houses and hotels, on the beach, in pub gardens, fields, farms and campsites. We also supply all the marquees for many of the established wedding venues in Dorset, Hampshire and Wiltshire, either exclusively or as a preferred supplier.
The flexibility of having a marquee wedding seems to really appeal to those couples that want something a little bit different. A marquee gives couples the ability to create any theme or atmosphere, specify any type of furniture and seating arrangement, use lighting for extra effect and add additional tented areas for a blessing ceremony, drink reception, catering, bar or chill-out area. Whether it's a traditional type wedding reception or an informal festival type affair, a marquee will create a magical and unique venue. If it is lovely and warm, open up the marquee and let in the sunshine or when the weather turns a bit chilly, our fabulous marquee heaters will ensure everyone is kept warm.
If you are looking for a wedding marquee for this year, we currently still have a few weekends left where we could accommodate you or we are busy taking bookings for 2017.
Please get in touch and we can arrange to come and see you and the venue.